Andalusia by Camella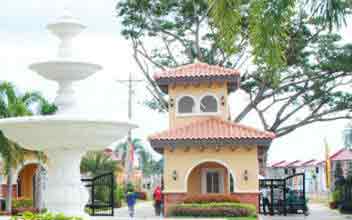 Project Type : House & Lot
Listing Type : Preselling
Units : Lot
Price: ₱ 3,197,300 & Up
Address : San Fernando, Pampanga
Location : San Fernando , Pampanga PH Andalusia Camella Andalusia Andalusia Camella Andalusia San Fernando
https://camellaandalusia.phproperty.com/
Andalusia is the first Spanish-themed residential development in San Fernando, Pampanga, the crossroad for the major provinces in the north with its strategic location in the heart of Central Luzon. Taking inspiration from the culture-rich region of Andalucia in Spain, this 8 hectare project is envisioned to satisfy individuals who have the passion for quiet elegance, taste for sophisticated architecture, and desire for a comfortable and placid lifestyle.

At Andalusia, each home is influenced by a distinct Spanish-Moorish character, with intricate decorative details, warm palette and stucco finishing. Following the efficiently-designed, symmetrically-proportioned floor plans of Crown Asia's Luxuria Home Series, the five available models to choose from have floor areas ranging from 92 to 250 sq. m. Open lots are also available for individuals who want more freedom with their home designs.

This unique creation is brimming with well-planned details, spaces and pathways that promote the leisurely life. Residents are sure to enjoy the outdoors with Andalusia's exclusive facilities and amenities such as the Clubhouse, swimming pool, courtyards and fountain parks that give residents ease of movement and refreshing views. Access to the internet also becomes easy as the community will be WI-FI ready. CCTV cameras are to be strategically located within the subdivision to provide enhanced security system for the safety of the residents. A commercial area is likewise envisioned to transform the community into a self-sufficient, self-sustaining one.

Andalusia has a strategic and prime location along Mc Arthur Hi-way, San Agustin, San Fernando. As the crossroad of major provinces and business centers, it is just 30 minutes away from the Diosdado Macapagal International Airport and just a few kilometers away from the Subic-Clark-Tarlac Expressway. This highlight makes it a great advantage for constant travelers abroad and across the country. Likewise, it has easy access to the city's commercial establishments such as SM Pampanga and Robinson's Starmills, and is very near private schools and hospitals.


Popular Links
Camella Andalusia
Camella Andalusia Location
Camella Andalusia For Rental Units
Camella Andalusia Resale Units
Camella Andalusia Pre-Selling Units
Camella Andalusia Showroom
Camella Andalusia Amenities
Camella Andalusia Price
Camella Andalusia Contact
Available Units