Camella Bantay by Camella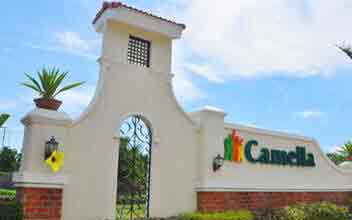 Project Type : House & Lot
Listing Type : Ready For Occupancy
Units : House and Lot
Price: ₱ 1,900,264 & Up
Address : Brgy. Cabaroan Bantay,
Location : Candon , Ilocos Sur PH Camella Bantay Camella Camella Bantay Camella Bantay Camella Camella Bantay Candon
https://camellabantay.phproperty.com/
This new Camella community sprawls on a 15-hectare property in Barangay Cabaroan in the municipality of Bantay, which shares a boundary with Vigan, crossing the Govantes River. In that part of the country, city boundaries are almost invisible because accessibility and extended families connect neighborhoods. Thus, living across the river may put one in another town, but still be part of Vigan because worship and leisure are done in St. Paul's Cathedral and the nearby Calle Crisologo and Plaridel Street where the old Spanish houses stand shoulder-to-shoulder – keeping the past from fading.

At Camella Bantay, while the past is honored by the strong details that support the Spanish-theme community, the present is given attention to give residents the comfort of living well. First, its location brings to mind the old town where all significant structures stood by the National Highway. The gate of Camella Bantay is along that highway, which also leads to Bantay East, Old St. Paul College, Divine World College, Ilocos Sur Community College, the University of Northern Philippines, Vigan Central School, Burgos Memorial School, and Sta. Catalina. For medical attention, the Lahos Hospital and the Metro Vigan Coop Hospital are near. And for business concerns, within the area are the government centers, banks, public markets, and the restaurants.

Inside Camella Bantay is a community that is designed for modern comfort – and aesthetics. The wide roads will be landscaped with greens and water elements. There will be miniature parks, a swimming pool, basketball court, playground, and pathways for a walk or a fitness run. A Clubhouse will nurture community spirit and socialization. The community will be kept secured by a gated entrance, perimeter fence, well-lighted streets and roving security guards.

Three model-houses will keep the theme going – the Lessadra Series for start-up families; the Camella Series for growing families; and the Crown Series for those who are moving-up.

Each house will of course have a high quality standard that comes with the reputation established by Camella's long history in the real estate industry. Some of the motels are

A wide range of home models are offered to choose from. Models include: Rina, Marga, Mara, Carmela, Carmina-DH, Carmina-UH, Drina, Elaisa, Dorina-DH and Dorina-UH.
Popular Links
Camella Bantay
Camella Bantay Location
Camella Bantay For Rental Units
Camella Bantay Resale Units
Camella Bantay Pre-Selling Unit
Camella Bantay Showroom
Camella Bantay Amenities
Camella Bantay Price
Camella Bantay Contact
Available Units