Camella Palo by Camella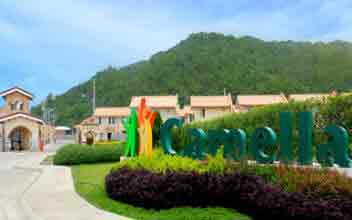 Project Type : House & Lot
Listing Type : Ready For Occupancy
Units : Townhouse
Price: ₱ 1,133,206 & Up
Address : Brgy. Arado, Palo Leyte
Location : Palo , Leyte PH Camella Palo Camella Camella Palo Camella Palo Camella Camella Palo Palo
https://camellapalo.phproperty.com/
Discover Palo, Leyte, a wonderful town where most of the seat of government offices, departments and bureaus of Region VIII are located. And this municipality is also home to Camella Palo, a house and lot residential community development designed and executed by the Vista Land Company.

Palo is also one of the most historical towns in Leyte. It was the site where Gen. Douglas MacArthur made true to his promise of returning to the Philippines to liberate the Filipinos from the Japanese Imperial forces in 1944. The Vista Land Company is also making history as the first to build a unique community in the heart of Palo. This community boasts of illustrious houses designed to give the Filipino families the best alternative in active and nature-centered living.

The house models have 8 types such as the Sara, Reana, Margarita, Mara, Carina, Drina, Elaisa and Fiona. The unit sizes range from 35 to 110sqm of floor area and with 44 to 110sqm of lot area. House units are classified as Townhouse and Single Firewall construction with 2-5 bedrooms and 2-4 T&B (depending on house model).

Carport is provided with every unit and balconies are for selected units. The house is spacious, and so is the lot, where the entire family still has open space as backyard. The entire community is practically safe and secured 24/7 where the entrance gate, aside from being beautifully landscaped is also well-guarded. The amenities are probably the first in Palo's history where you could find a full-court basketball, pavilion, clubhouse and children's playground with lots of playing equipment and structures and landscaped and lush green lawn, among others.

The Camella Palo, being a third class town never runs out of quality schools such as the St. Paul Business School, Bethel International School, Philippine Science High School and Leyte Academic Centers which are all near the site. Hospitals like the City Hospital and the Leyte Provincial Hospital are in easy reach. Commercial and economic centers such as the Palo Supermarket, Robinson's Mall, Oriental Hotel and more are within the community's vicinity. The DZR Airport is just a 20-minute ride from Camella Palo.

The Palo Cathedral is just a minute ride from the project where Sunday worships and other religious activities are held. The Camella Palo is really the best retreat for the entire family where all the luxuries and the best amenities are combined to give you the vibrant living not every developer could provide.
Available Units